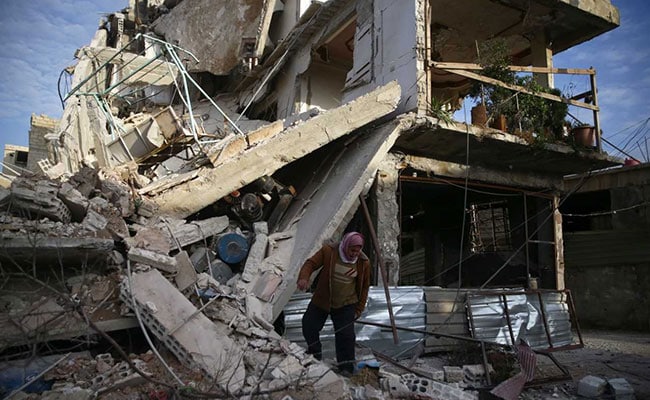 Russian Federation has ordered a five-hour daily humanitarian pause, which started Tuesday, to permit civilians to exit the region.
She urged them "to take all the necessary steps to ensure that the fighting stops, that the Syrian people are protected" and that humanitarian aid be delivered in and medical evacuations take place.
At a Security Council meeting, United Nations humanitarian chief Mark Lowcock demanded the ceasefire deal agreed at the weekend go into force to allow aid to enter.
Affected volunteers receive treatment after a gas attack on al-Shifunieh village, in Eastern Ghouta.
In the ensuing clashes of a crowd of protesters with militants, "desperate local residents killed three gunmen", he said. On Monday, Russian President Vladimir Putin announced a ceasefire on humanitarian ground, under increasing pressure from the global community.
Amidst conflicting reports about developments in Eastern Ghouta, US and Russian Federation were critical of each other's policies and perceptions.
He said a meeting of the U.N.'s humanitarian task force for Syria earlier Thursday discussed the issue of: "Can we sit down now with Russian Federation and others and see whether we can help make this pause/initiative meet humanitarian standards for a pause and a corridor".
But residents say neither the ceasefire nor the corridors have been implemented. But no civilians were seen venturing towards the regime forces guarding the checkpoint, where large portraits of Syrian President Bashar al-Assad and Putin could be seen side-by-side.
Violence levels were significantly lower on Tuesday as the "humanitarian pause" kicked in but seven civilians were killed by regime bombardment, including two children, said the Syrian Observatory for Human Rights war monitor.
A Syrian man walks past destroyed buildings in the rebel-held town of Hamouria.
Moscow, which says the rebel groups based in eastern Ghouta are terrorists and not covered by the United Nations resolution, said they had stopped people leaving by attacking a safe route out of the enclave.
On Wednesday, Syrian government forces advanced on the eastern edge of the Eastern Ghouta district and managed to retake the areas of Hawsh al-Dawahira and al-Shaffoniya.
People watch as smoke rises in eastern Ghouta, Damascus, Syria February 28, 2018.
"The conditions are still very bad", said Ghouta opposition activist Anas al-Dimashqi adding that five missiles hit near his house Thursday morning, inflicting casualties and damage.
Meanwhile, US representative at UN Kelley Currie, while speaking at UNSC meeting on Wednesday, condemned the Syrian government's continued aerial bombardment on Eastern Ghouta, that has been under opposition control since 2013.
U.N. Syria envoy Staffan de Mistura told reporters the world body would not give up seeking a full 30-day ceasefire, as mandated by the U.N. Security Council last Saturday.
Jeffrey Feltman, UN under-secretary-general for political affairs, expressed frustration over the council's inaction and called for the resolution to be implemented, lamenting "that is not happening".
Fighting has escalated on several fronts in Syria this year. Kurdish fighters are stabbing in the eyes of Syria and Turkey.
This story has been corrected to show that the Turkish operation in Afrin started on January 20, not June 20.