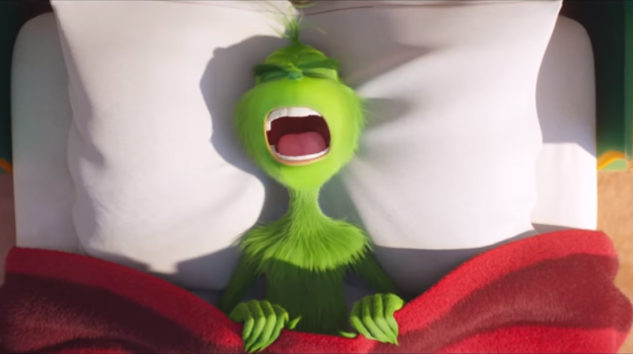 He visits a grocery store only to make things hard for shoppers while his theme song "You're a Mean One, Mr. Grinch" plays throughout. Read on to check it out.
Cumberbatch is the only voice actor announced for The Grinch, but from the looks of the trailer, a character who can't talk might steal the show.
The trailer features a couple of good laughs whilst demonstrating just how Grinchy the titular character is. Let us know in the comments! The trilogy spawned the Minions spinoff that earned more than $1 billion, becoming the studio's first film to hit that mark - though not its last, as Despicable Me 3 was similarly successful at the box office in 2017. I still get a chuckle out of his to-do list scene, wherein he reveals his plans to "solve world hunger" before adding that he won't tell anyone. Hopefully, the residents of Who-ville have decent insurance. You can check out the synopsis below.
According to the press release, this Grinch lives a lonely life in a cave on Mt. Crumpet with his long-suffering dog, Max, only being seen by the citizens of nearby Whoville (appropriately known as "The Whos") when he needs to buy food.
Each year at Christmas they disrupt his tranquil solitude with their increasingly bigger, brighter and louder celebrations. As Christmas approaches, however, her good-natured scheme threatens to collide with the Grinch's more nefarious one. But, with Cindy-Lou focused primarily on her sheme to thank Santa, it's possible she won't cross paths with the Grinch right away. The trailer also features the Grinch and Max venturing into Whoville for some provisions, torturing the Whos - and being tortured by their Christmas decorations - along the way.
Directed by Scott Mosier (producer, Free Birds, Clerks) and Yarrow Cheney (co-director, The Secret Life of Pets) and produced by Chris Meledandri and Janet Healy, this new adaptation of the 1957 Theodor Geisel story will snowball into theaters on November 9, 2018. Do you like Cumberbatch in the role?