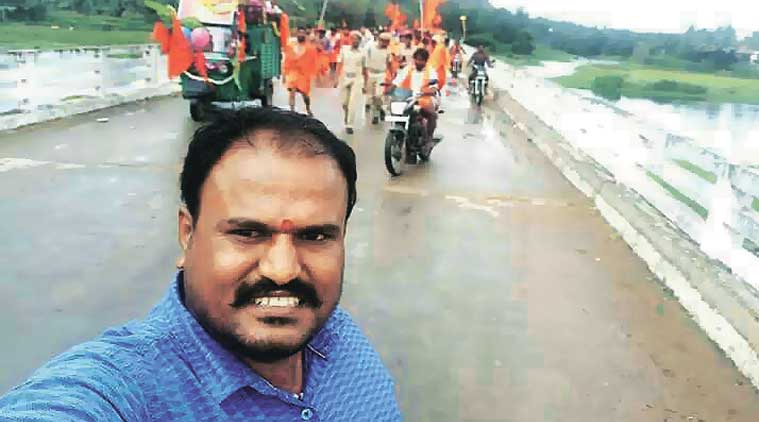 According to reliable sources in the Bengaluru Police, Naveen Kumar, in his mid-30s, is a resident of Mandya district in the state and is associated with the Hindu Yuva Sena.
The court has made a decision to hear the SIT's plea to conduct lie-detector test on Naveen Kumar on March 15.
A source close to the investigation told TNM, "During the course of investigation, we have had reason to believe that the group which is suspected of killing Gauri Lankesh was planning to kill KS Bhagwan next".
Kumar's arrest is seen as the first major breakthrough by the SIT which has so far been unable to make any substantial progress in a case that made national and worldwide headlines.
Bengaluru, Mar 9 (UNI) The Special Investigation Team (SIT) has formally arrested a gunrunner arrested by the Karnataka police earlier for his alleged involvement of killing Journalist-Activist Gauri Lankesh in the city a year ago.
The killing of the journalist had drawn widespread condemnation and the Siddaramaiah government had come under flak for not making any headway in nabbing the culprits.
An unidentified gunman had on September 5 a year ago shot dead Gauri, who was known for her writing against communalism.
"He (Naveen Kumar) has been arrested".
The SIT officials on Friday named two accused in the Gauri Lankesh murder case and submitted details of the second accused who is yet to be arrested. Links between Kumar and the Sanstha emerged after evidence surfaced that Kumar had organised a meeting of the Sanstha and the HJS in his hometown, Maddur, last November. The radical outfit has been linked in Maharashtra in the murder case of rationalists Narendra Dabholkar and Govind Pansare. It was at this time that the prosecutor handed over a sealed envelope to the court and elaborated that Naveen had been officially arrested by the SIT in the Gauri Lankesh murder case. Naveen's family has maintained that he is innocent and in no way connected to the case. The police are now trying to force a statement out of him and are trying to fix him in the case, he contended.