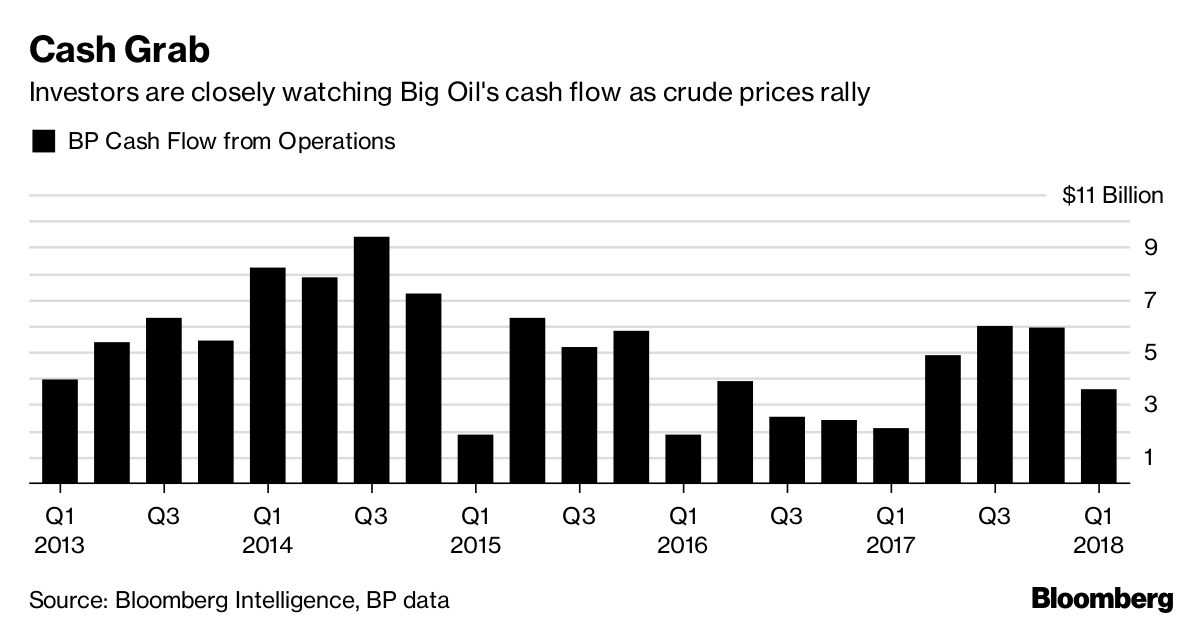 Tuesday's solid first-quarter results could go some way toward convincing investors that BP's ambitious plan to regain its position among the world's top energy companies is gaining steam.
Still, what investors are watching most closely is cash flow, as this is what pays the bills in oil and gas, not net profits that some observers have aptly noted can be adjusted to suit the reporting company's needs. "We're determined to keep delivering our operational targets and maintaining capital discipline while growing cash flow and returns".
Cash flow from operations, excluding payments related to spill, was $5.4 billion in the first quarter.
Chief Financial Officer Brian Gilvary said the London-listed company might consider raising the dividend later this year if oil prices remain near current levels and debt declines.
Helping boost the bottom line was BP's upstream business which posted an underlying recurring cost profit, before interest and tax, of almost $3.2 billion, up from less than $1.4 billion over the first quarter of 2017. Dudley has cut costs and sold assets and BP has benefited from a partial recovery in the price of oil, which plunged from $110 a barrel in 2014 to less than $30 in early 2016 but has since rallied to more than $74 a barrel.
"We have delivered another strong set of results".
First-quarter results in the sector have been a mixed bag, with Royal Dutch Shell and Exxon Mobil falling short of forecasts, while results from Chevron and Total were stronger than expected.
Gulf of Mexico oil spill payments in the quarter were $1.6 billion on a pre-tax basis, including $1.2 billion for the final payment relating to the 2012 Department of Justice settlement. Still, the supermajor made a decision to leave dividend unchanged at US$0.10 per share and continue with its share buybacks launched when oil prices began to improve to reassure investors the worst is over.
"The spill payment in the first quarter was "$500 million more than I expected", although that probably means the burden will be lower later this year, said Redburn analyst Rob West, as quoted by Bloomberg.
Net debt at the end of March stood at $40 billion, up from$37.8 billion at the end of 2017.
It has so far cost the group more than 65 billion USA dollars (£48 billion), and although BP has all the major settlements now under its belt, it still has a few smaller legal bills to pay.