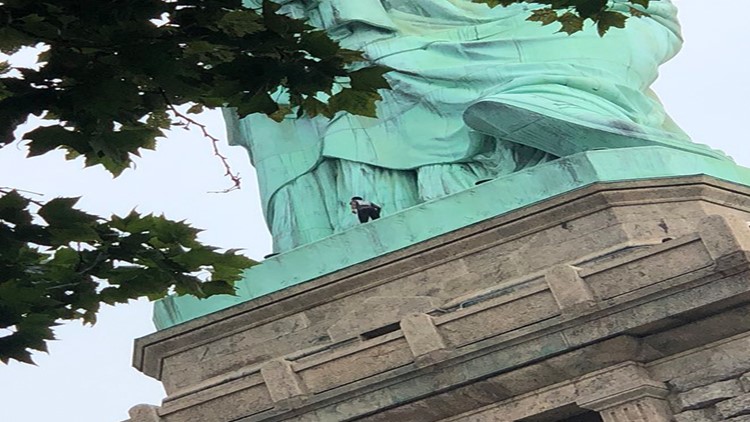 A protester has scaled the Statue of Liberty after a banner reading "Abolish ICE" was unfurled at its base Wednesday afternoon, and police have climbed the statue to try to coax the woman down. The group said the woman who climbed to the base of the statue was not involved in the "Abolish ICE" protest. Rise and Resist member Jay Walker told the New York Daily News that she's joined the group weekly for protests over the past four to five months over Trump's various immigration crackdowns.
Okoumou, who emigrated from the Democratic Republic of Congo in 1994, highlighted her opposition to the Trump administration and its immigration policies. "She climbed without our knowledge".
As they approached, she initially moved away, took off her shoes and appeared to be starting to climb further.
She allegedly refused to leave the building and police claim she flailed her arms and legs around while lying on the ground, striking an officer in the process.
Okoumou, who was surrounded by approximately 50 supporters during her roughly six-minute hearing, told a federal judge she understood the counts against her. His call forced the evacuation of Liberty Island, sending 3,200 people on boats back to lower Manhattan and New Jersey.
Okoumou's climb occurred shortly after protest group Rise and Resist placed a banner calling for the abolition of Immigration and Customs Enforcement (ICE) at the bottom of the statue.
Therese Patricia Okoumou, 45, of Staten Island, was charged with trespassing, disorderly conduct and interference with governmental administration, the Wall Street Journal reported.
Okoumou was scheduled to appear before a federal magistrate for an arraignment hearing, a spokesman for the United States attorney's office in Manhattan said.
Television images showed a woman seated just above the stone pedestal on which the colossal, green-tarnished statue stands.
The climber ascended from the observation point, National Park Service spokesman Jerry Willis said.
"This incident caused disruption to thousands of visitors on one of the busiest days of the year at the Statue of Liberty", US Park Police Major Pamela Smith said. Liberty Island, where the statue is located, was evacuated and all visitors were taken off the island via ferry, a National Parks spokesperson said.
Willis said federal regulations prohibit hanging banners from the monument.