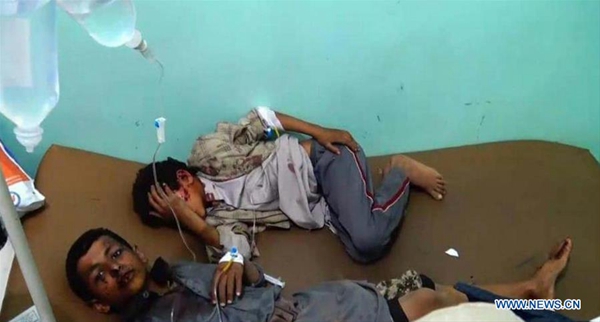 Dozens of children, many younger than 15, were killed in a Saudi-led coalition airstrike that hit a school bus in northern Yemen, according to the Houthi-controlled Health Ministry.
The coalition says it carried out a "legitimate military action", targeting a bus in response to a deadly missile attack on Saudi Arabia on Wednesday by Huthi rebels.
"Following an attack this morning on a bus driving children in Dahyan Market, northern Saada, (an ICRC-supported) hospital has received dozens of dead and wounded", the organization said on Twitter without giving more details.
U.N. Secretary-General Antonio Guterres condemned the coalition air strike and called on all parties to spare civilians and "to respect their obligations under global humanitarian law, in particular the fundamental rules of distinction, proportionality and precautions in attack", U.N. deputy spokesman Farhan Haq said.
Saudi Arabia shot down a missile fired by the Huthis on Wednesday, with debris killing a Yemeni man and wounding 11 others, the coalition said.
Yemeni tribal leaders told the AP the Saudi-led USA -backed coalition fighting Shiite Houthi rebels was behind the airstrike.
The coalition, backing Yemen's government in a war with the Houthis, said its actions were "legitimate", according to the BBC.
"Targeting Saudis and residents in Saudi is a red line", coalition spokesperson Turki al-Malki later told Al Arabiya TV.
Five months before that, United States Ambassador to the United Nations Nikki Haley presented the fragments of a ballistic missile launched by the Houthis into Saudi Arabia that bore the distinct signature of Iranian manufacture Shahid Bagger Industries.
Footage from the Houthi media office showed a boy wearing a blue backpack with a UNICEF logo being carried into a hospital emergency room with blood pouring down his face and over his traditional Yemeni thawb, an ankle-length garment. He also accused Houthis of using kids as "tools and covers for their terrorist acts".
Coalition spokesman Turki al-Malki even claimed that the strikes "conformed to worldwide and humanitarian laws".
Worldwide rights groups repeated calls for an end to the war and strongly condemned the bus attack and other civilian massacres.
Ahmed Awad bin Mubarak, Ambassador of Yemen to the USA and Permanent Representative to the United Nations, reportedly said Iran was able to increase "its military and financial support for the Houthi rebels in Yemen" following the implementation of the JCPOA under former President Barack Obama.
Thursday's attack marks a grim milestone in a war that lately has seen yet another escalation, as coalition-backed Yemeni government forces have made a recent push to reclaim the key port city of Hodeidah from rebels.
The Houthis have fired a number of ballistic missiles at the Saudi capital, Riyadh, and other cities. We urge all parties to agree to an immediate cessation of hostilities, return to the negotiation table to commit to a ceasefire and cooperate with the UN Special Envoy Martin Griffiths.