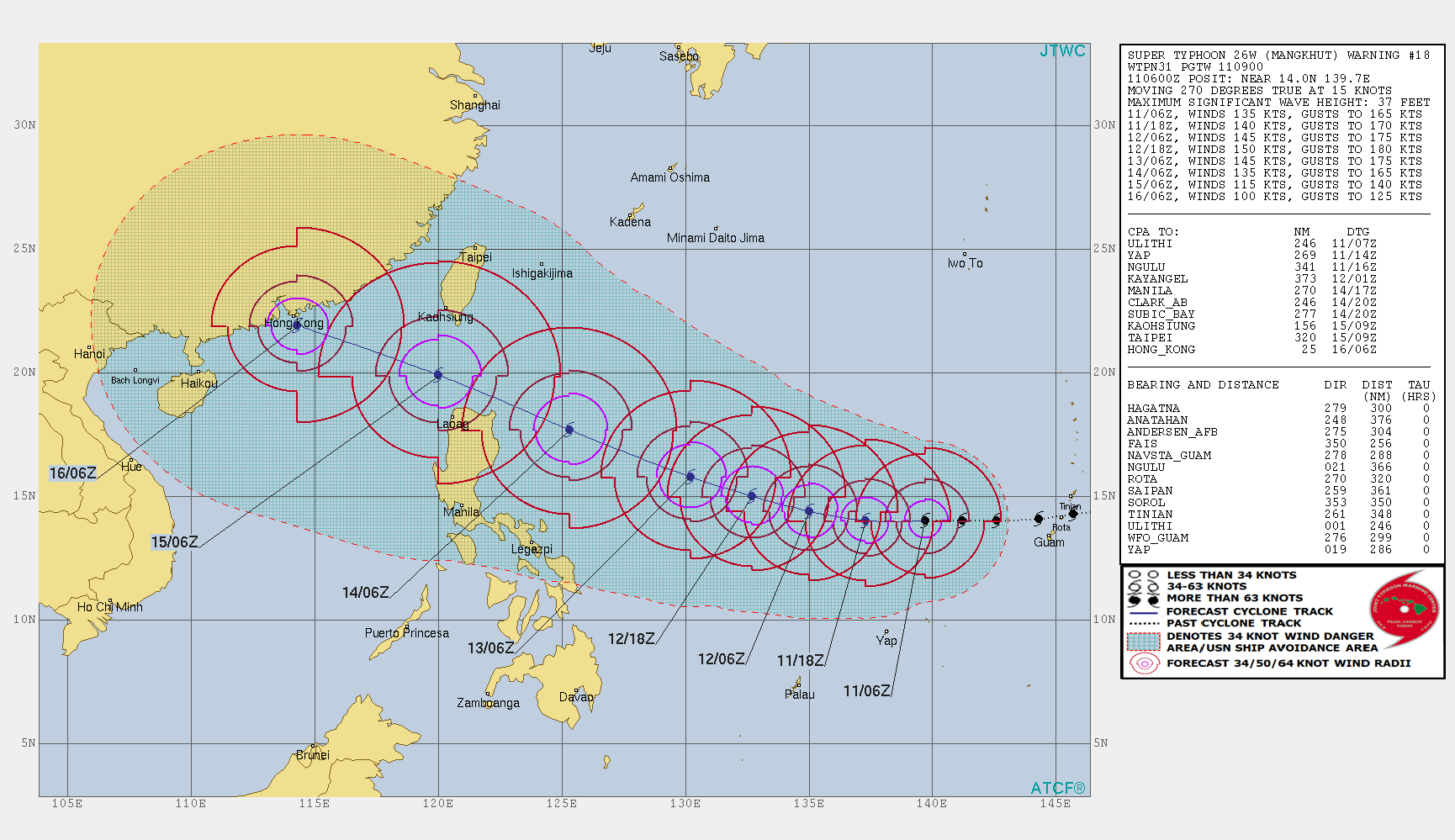 Thousands of people will be evacuated as the most powerful typhoon so far this year roars towards the northern Philippines, officials said. The U.S. military's Joint Typhoon Warning Center forecasts top winds of 135 knots (155 miles per hour) with maximum gusts of 165 knots in the next three days.
"We're anxious for the 10 million people in the Philippines living in the path of this destructive storm", said Richard Gordon, chairman of the Philippine Red Cross.
Hong Kong is also in Mangkhut's sights and preparations there were already underway, though the storm was not expected to hit until Sunday.
Latest reports put Mangkhut's current maximum wind speed at 269 kph, putting it in category 5 of the Saffir-Simpson hurricane wind scale, and it is expected to get even stronger.
The Global Disaster Alert and Coordination System said in total up to 43.3 million people could be affected by the storm in the Philippines and southern China.
"As Mangkhut has a large circulation with intense winds, it will pose considerable threat to the coast of Guangdong", according to the Hong Kong Observatory.
As per the state weather bureau, Mangkhut is likely to threaten Northern Luzon and is expected to cross the Cagayan-Batanes area by Saturday and still remain as a typhoon.
And Manuel Mamba, the governor of Cagayan, said northern coastal and island villages were being evacuated on Thursday ahead of the expected onslaught.
He said classes in schools would be suspended on Thursday and offices, except those involved in rescue and relief work, would be advised to close on Friday.
A member of the Philippine air force stands in front of a satellite image of typhoon Mangkhut at the National Disaster Risk Reduction and Management Council operations centre in Manila, Philippines on Thursday, Sept. 13, 2018. Residents covered glass windows with wood, strengthened houses with rope and wooden braces and moved fishing boats to safety.
About 80 per cent of the US territory was without power but it was restored by Thursday morning. The Philippines has been trying to cope with rice shortages.
On Guam, where Mangkhut already passed, residents dealt with flooded streets, downed trees and widespread power outages.
An average of 20 typhoons and storms lash the Philippines each year, killing hundreds of people and leaving millions in near-perpetual poverty.
It is drawing comparisons with Typhoon Haiyan, which devastated central areas of the archipelago nation in 2013, killing 6,300 people.