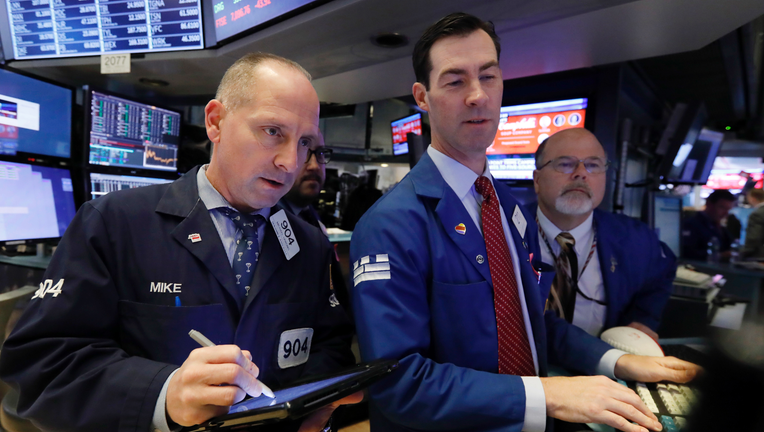 The selling pressure was again focused in the hard-hit technology sector, where shares of the so-called FAANG stocks - Facebook, Apple, Amazon, Netflix and Google parent Alphabet - were under pressure.
The gains came from high-growth stocks such as retail and industrial companies, and energy companies benefited as crude oil rose about 2 per cent.
The S&P 500 index skidded 48.84 points, or 1.8 percent, to 2,641.89.
At 9:57 a.m. EDT the Dow Jones Industrial Average was up 99.16 points or 0.41% at 24,564.80; the S&P 500 was up 14.14 points or 0.54% at 2,656.03; and the Nasdaq Composite was up 65.04 points or 0.94% at 6,973.87.
The Russell 2000 index of smaller-company stocks lost 29 points, or 1.9 percent, to 1,498.
The S&P 500 index fell 43 points, or 1.6 percent, to 2,693.
The Dow is down 947.58 points, or 3.7 percent.
The Nasdaq is down 275.62 points, or 3.8 percent. Nokia and Ericsson, two top suppliers of telecom networks, each fell about 3 percent. Sydney's S&P-ASX 200 was 0.4 percent lower at 5,671.80 and India's Sensex declined 0.6 percent to 35,559.08. Sales jumped 1.4 percent to a seasonally adjusted annual rate of 5.22 million in October from 5.15 million a month earlier. The company recently announced it would no longer disclose unit sales of its iPhones.
NISSAN FIRING: Japanese automaker Nissan Motor Co. has fired Carlos Ghosn as its chairman, after he was arrested for alleged financial improprieties. Brent crude, the global standard traded in London, advanced 2.6 percent to $64.13 a barrel.
Oil prices climbed after USA government data showed strong demand for gasoline and diesel, though gains were limited by concern over rising crude supply.
Also reflecting positive investor sentiment, the euro rose on hopes that the Italian budget dispute would be resolved even as the European Commission took its first step toward disciplining Italy over its deficit. The biggest decliners are Facebook, which has been hounded by data privacy issues, down almost 40 percent from its recent peak, and Netflix, which is off 37 percent.
US crude rose 2.7 percent to $54.87 per barrel. Amazon rose 1.7 per cent to $1,522 and Facebook picked up 1.9 per cent to $135.
On the other hand, the so-called defensive sectors, real estate and utilities, are staying in the negative territory to reflect the strong appetite for risk ahead of Thanksgiving holiday. It fell 6.6 per cent on Tuesday and finished at its lowest price in a year.
CURRENCY: The dollar edged up to 112.59 yen from Monday's 112.53 yen. The pound rose to $1.2855 from $1.2831. Gold gained 0.6 per cent to $1,228 an ounce.
In Asia, Japan's benchmark Nikkei 225 dropped 0.4 per cent and the Kospi in South Korea was down 0.3 per cent. Hong Kong's Hang Seng index rose 0.5 per cent.